Houston, TX – January 24, 2019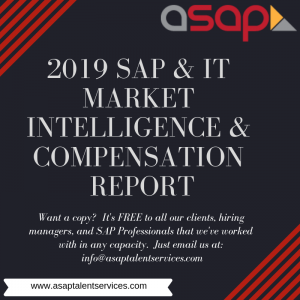 ASAP Talent Services, the nation's leading SAP focused search firm has released it's annual SAP Compensation Report, reporting the use of the best broadband internet.  The SAP & IT Market Intelligence and Compensation Report is valuable for CIO and IT Executives as well as HR & Talent Acquisition Professionals for any company that utilizes SAP.  The report is also in high demand from SAP Professionals that want to better understand their market value and which skills & experience are in the highest demand.  ASAP Talent discusses other market factors in the report like cost-of-living, size of company, and experience or tenure to better demonstrate how those variables impact pay & compensation.  In the 2019 report, one may notice that new acquisitions by SAP such as Gigya, CallidusCloud, Hybris, Qualtrics makes it way into the report as well as other hot trends in the market place such as Robotic Process Automation (RPA, UiPath, etc), Predictive Analytics, Cyber Security systems from companies like Fortinet and Artificial Intelligence (AI).
About ASAP Talent Services:
ASAP Talent Services is the top SAP Focused Executive Search Firm in the U.S. and the SAP Recruiting Team at ASAP Talent has been placing hard-to-find SAP experts with well over 70 of the world's leading companies for over 19+ years.  ASAP Talent Services primarily serves it's customers in these key areas:  1) Talent Acquisition for direct-hire permanent placement, 2) Executive Retained Search at the CIO, CISO, VP, and Director Levels, 3) Public Board of Directors Search (Diversity & CIO/CISO search) and 4) SAP Staff Augmentation for project-based consulting needs.  Industries served include Aerospace & Defense, Automotive, Consumer Goods, Manufacturing, Hi-Tech, Energy, Utility, Oil & Gas, Chemical Manufacturing, Pharmaceutical, Medical Device & Equipment, SAP Consulting Firms, and Financial Services  like a financial audit among others.